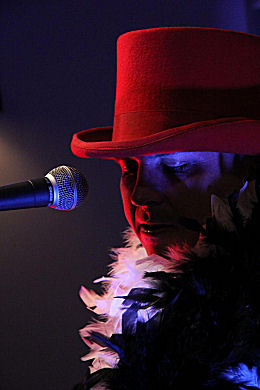 About 100 Gigs, 100 Causes
The Choir of Loretta (aka Steve Nisbet) has been singing, playing and writing music in various guises for over a quarter of a century. A multi-instrumentalist, he's played in a multitude of bands covering every conceivable style of music, and has been involved in numerous charitable projects over the years. Inspired by fellow musicians, and cajoled by friends, now he's taking his eclectic mix of acoustic songs to all corners of the British Isles in a challenge to raise in excess of £10,000 for charities local to each gig.
Playing 100 gigs from Cornwall to Troon, he aims to raise a minimum of £100 at each one, with the money going directly to a local charity. With cover versions spanning folk, disco, rock and pop, and a smattering of original numbers, each gig promises to be a unique evening's entertainment. And the hat is fabulous.